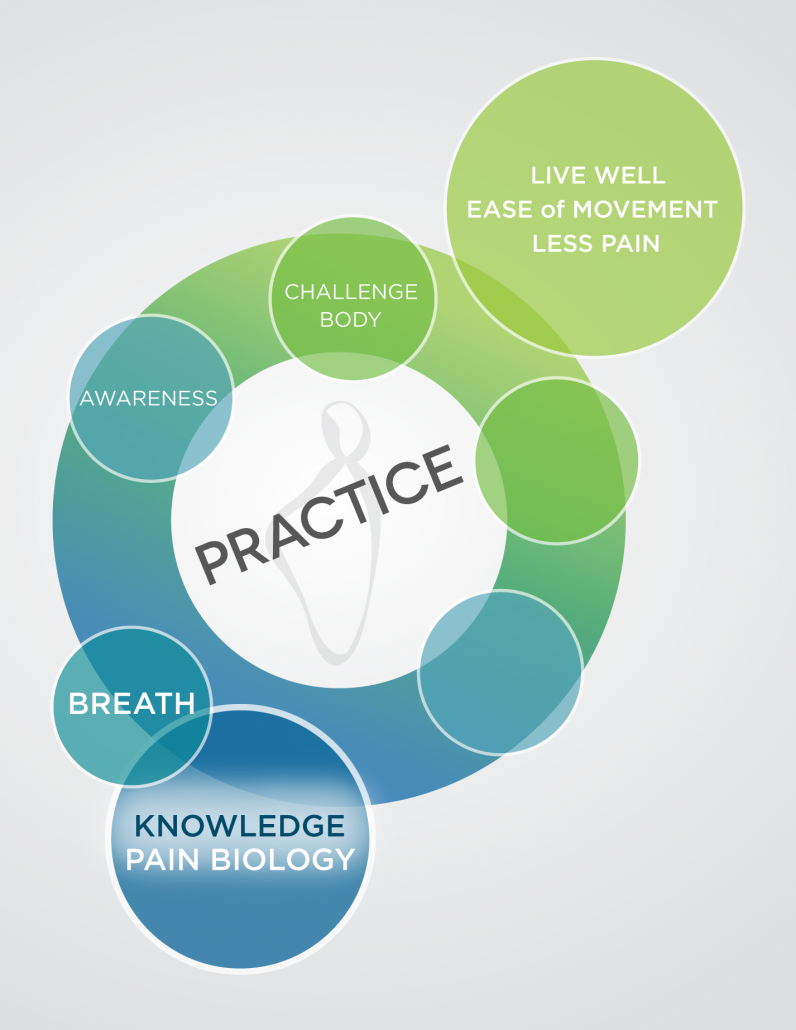 Knowledge and practical instructions are vital to your recovery path.
Read these brief points, then watch the videos to understand more.
With greater understanding, you will make different choices, and you will learn how to make 'ease of movement' an effective approach.
Persisting pain is related to two things:

1) the changes in your physical body,
AND
2) neuroplastic changes in your nervous systems.

The nervous systems become sensitized and even hyper-vigilant when pain persists. This can create pain with even small movements and typically-painless stimulation (such as light touch, pressure, cold, and even life stresses).
Neuroplastic changes are changeable. We can influence theses through our actions. So there IS hope for improvement.
One path to change the nervous systems is to move with more ease, especially when combined with skillfully keeping our body, breath and mind calm.
Moving with more ease isn't just our long term goal, it should be our goal each time we use movement or exercises for recovery.
---
Discuss these points with your health professional
Watch the two short videos below (or consider watching the three long Overcome Pain Live Well Again sessions below)
Then take the Pain Self Assessment Questionnaire, before you move on to STEP 2: Breathing – the link button to next lesson is at the bottom of this page.
---
View the videos below:
---
Take our Pain Self-Assessment Questionnaire
---
 Please view the three Empowering Self Management of Pain webinars from this link …
Start with Part 1 (rather than the first video on this linked page, which is Part 3)
https://www.painbc.ca/chronic-pain/webinar/empowering-self-management-pain-parts-1-3-pain-self-management-techniques-practice-and-planning
(We regret that the Overcome Pain Live Well Again videos from 2008 and the Canadian Pain Coalition's website are not currently available)
---